I'm delighted to reveal that the new version of the VMware vSphere Design book is now available from leading book stores.

The electronic versions are widely available now, and hard copies can be pre-ordered and should ship within the next couple of weeks.
Scott Lowe (blog/twitter) and I worked hard to include all the vSphere 5.x changes in this edition. Quoting from the book's introduction:
This revised, updated, and largely rewritten second edition of VMware vSphere Design has been thoroughly overhauled to encompass all the great new changes that have been introduced in vSphere up to and including version 5.1. We've been blown away by the sheer volume of improvements and additions to this product. Every area of vSphere design has been affected deeply, and the revamped book reflects this.
This edition also includes a fantastic new chapter covering vCloud Director from expert Kendrick Coleman (blog/twitter):
In addition to the changing landscape of vSphere in the datacenter, the book now incorporates another key tenet of VMware's datacenter portfolio: vCloud Director, its private/public cloud integration piece. This emerging technology is now deeply intertwined in the future of vSphere and becoming an essential skill for anyone currently involved or interested in vSphere design.
I've been asked several times if a book like this, which is so focused on design concepts, has really changed that much since the 4.x original edition. Well, for starters the book has grown around 150 pages – so right off the bat you can see there is a lot more goodness squeezed in. While I appreciate many of the fundamental principles remains, we poured over every section to ensure that it reflected the vSphere 5.x toolset. For example, chapter 2 in the first edition was based on the design choice of ESX or ESXi as the hypervisor. For this edition I largely re-wrote the chapter. It now dives under the covers of ESXi to explore how the image ticks, looks at how to deploy it across different environments, compares the design impacts of stateless versus installable ESXi, and how to configure and then manage the image. So yes, even if you have already read the first edition I highly recommend upgrading to this new release.
You can download the book's introduction section here, which describes in detail what the book covers and why you'll find it an essential addition to your technical library: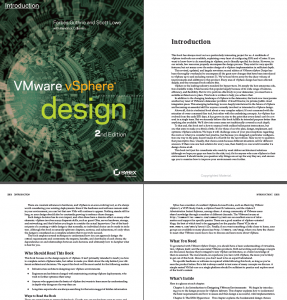 As with the first edition, we were very fortunate to have Jason Boche (blog/twitter) as our Technical Editor. I'd also like to personally extend my thanks to Maish Saidel-Keesing (blog/twitter); as an author on the first edition his involvement naturally bleeds through to this edition.
We're all immensely proud of this book and truly believe that it's a great resource for learning about vSphere design. We hope you snag yourself a copy and enjoy reading it as much as we enjoyed writing it.